Regional Revitalization Forum 2 (2023)
 
Development of doctoral course program nurturing "Advanced Foreign Human Resources" who contributes to "Regional Revitalization".
Report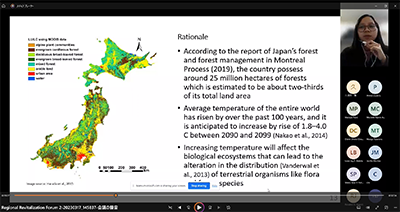 With 90 participants from a total of 14 universities and governmental agencies, a seminar was held from 3pm (JST) on Friday, March 17, 2023. Nine of these universities and governmental agencies, from five economies (Taiwan, the Philippines, Indonesia, Myanmar and Japan), have academic exchange agreements in place with Kochi University. Presentations on the conservation of species diversity through nature reserves and the ecophysiology of precious corals—the precious coral industry is indigenous to Kochi —were given. In addition, efforts for "regional revitalization" by Kochi University , mainly in the city of Muroto, were introduced to the audience. Active discussion followed with questions on topics including methods to establish nature reserves and tips for job creation through regional revitalization.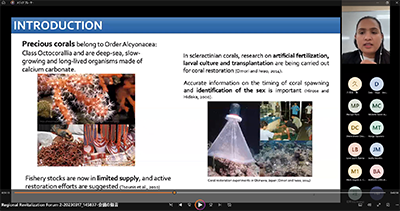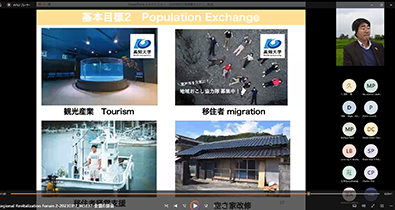 Background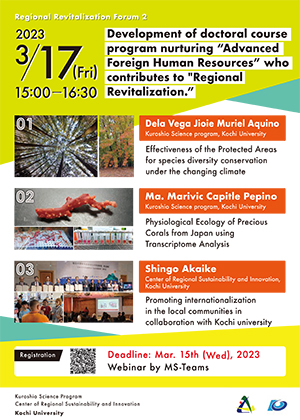 Following Japan, which has a high aging population rate, Taiwan is also facing rapid aging and population decline, and there are concerns that the vitality of rural areas will decline.
In 2021, 10 Japanese and Taiwanese universities, including Kochi University, established the "TJ Alliance (Taiwan-Japan Alliance)" and began sharing human resource development initiatives to promote "Regional Revitalization." In addition, Kochi University has supported doctoral students by providing scholarships for their degree research since FY2021 to academically promote " Regional Revitalization " and help them settle in the region after completing their studies.
In this seminar, we will introduce these examples and discuss future developments.
14:00-15:30 (Taiwan, Philippines), Mar. 17th (Fri), 2023
Webinar by MS-Teams
Deadline: Mar. 15th (Wed), 2023
Assessing the Impacts of Climate Change on the Distribution of Flora and Fauna: Case Study in Japan
Dela Vega Jioie Muriel Aquino (Kuroshio Science program, Kochi University)
Physiological Ecology of Precious Corals from Japan using Transcriptome Analysis
Ma. Marivic Capitle Pepino (Kuroshio Science program, Kochi University)
Promoting internationalization in the local communities in collaboration with Kochi university
Shingo Akaike (Center of Regional Sustainability and Innovation, Kochi University)
Regional Revitalization Forum 1 (2021)

How does Regional Revitalization Confront Aging and Declining Populations?
~The challenge of the Regional University~
"Regional Revitalization" is one of key policy in Japanese which aim of resolving some of the problems facing East Asia, including population decline, an aging population combined with a low birth rate, and declining regional economies. In this seminar, we discussed the role of higher education for its promotion.